04/18/2022
Tim MacDonald Retires!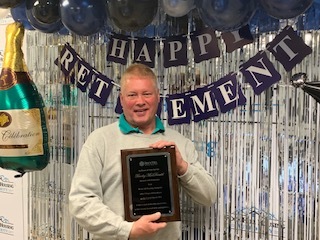 Timothy Michael MacDonald retired from the Rock Hill Housing Authority on March 31, 2022. Tim was employed with the Authority for over 9 years, 2 months, and 9 days. Tim has been a great asset to the Housing Authority of Rock Hill and has served the citizens of this community well.
Tim began his career with the Rock Hill Housing Authority on January 22, 2013. Tim was hired as a member of the Grounds Maintenance Division. In May of 2015, Tim was promoted to the position of Maintenance Mechanic and performed in that capacity for over seven years. Tim has been a key player in the Authority achieving HIGH PERFORMER designation from the Department of Housing and Urban Development for the administration of the Public Housing Program. Tim has served this community as a volunteer as well. Tim has volunteered his services at The Children's Attention Home as well as the former, Renew Our Community (ROC). Congratulations Tim!